The Ukrainian government after two failed attempts to arrest Mikheil Saakashvili decided to declare him wanted. Disgraced politician accused of preparing a coup. To the ultimatum to surrender the former Governor of the Odessa region has not responded. Saakashvili did not even try to escape and continues to hold a meeting near the Verkhovna Rada. The number of his supporters increased day by day. Today at the national Assembly leader of the protest movement came to support more than a thousand people.
The so-called Council to the Verkhovna Rada Mikhail Saakashvili arrived in good spirits. Was smiling. This is the second day of the Kiev authorities accuse him of links with Viktor Yanukovych and even the Kremlin. «Miho-independence» financed the enemies of Ukraine. About his supporters, Saakashvili said in Russian, according to «TV Center».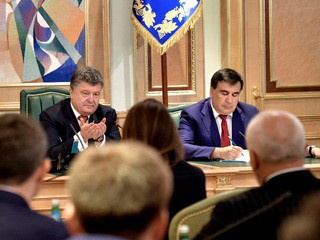 Poroshenko overwhelmed by the situation.



Saakashvili: there is a chance to meet the New year without Poroshenko 07.12.2017
Share this news